Welcome.
New white paper available.
Ten Key Design Criteria to Assure High Quality Data in Industrial IoT Applications.
The success of any commercially deployed industrial IoT application is dependent upon its ability to provide insights, and take action, based upon data harvested from "things". Ultimately, they will only add value if these insights and actions are based on high quality data.
When progressing from proof of concept to the development of a robust, commercially deployable industrial IoT application, developers and system integrators will face a range of challenges in assuring the quality of data necessary for success.
Beyond the confines of the central server, database and management interface, the operating environment becomes much more uncertain. The edge devices, deployed as part of the end-to-end system, are core to successfully managing this uncertainty and assuring high quality data.
Download this new white paper and discover the ten key design criteria that developers and system integrators should consider when assessing edge devices, to assure high quality data, and successfully deploy, and scale, their industrial IoT applications.
Fill in the form below and we'll send a copy of this Sixis white paper, direct to your inbox.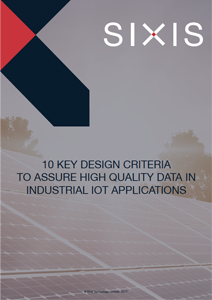 Delivery in action.
Your ideas. Realised.
Smart Sites. Smart Energy. Smart Processes. Smart Buildings. Smart Fleets. Smart Ideas.